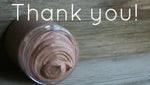 Hello 2021….
Well, we made it!  We survived 2020!  Albeit by the hair on my chinny chin chin, but we survived.  Sure we have a few more scars than we did before but we also have a lot more grit too.  We also have a deeper appreciation for moments spent with family and close friends and for the simple things in life like going out to eat or taking our kids bowling or to our local movie theater, going to High School football games and listening to the pep band during our basketball games.  We were unable to do SO many things in 2020 and we are going to be sure to do as many of them as often as we can in 2021!
And then there is you, our customer.  You are the reason we made it, the reason we will still be around in 2021!  Without your love and loyalty and compassion and amazingness, we would not have made it through the fire in May or the pandemic restrictions!  There will never be enough words to express how grateful we are for you.  The best and most sincere I can offer is simply Thank You. 
Thank you for choosing to shop small and shop local, thank you for coming in and visiting, thank you for messaging words of encouragement, thank you for liking and sharing posts, thank you for talking to your friends and family about us, thank you for sharing our goodies with your loved ones this holiday season, thank you for being a customer and friend!
We cannot wait to see what 2021 brings our way!  I'm not going to say we are ready for it but we will get through it, no matter what! 
I have some neat ideas that I'm hoping to put into motion within the next couple months.  I think you'll like them and our more "hands on" approach to our Bath & Body store.  But that's for another post in the future, we hope!
As for the present, here's what we are working on for the month of January:
Updating our website photos and descriptions
Making all our holiday scents one more time just in case you want to stock up on them before they are gone for good
In house organizing and cleaning
LOTS AND LOTS of brainstorming!
We hope look forward to all the things we will be bringing you in 2021 and hope you'll be just as excited as we are!!