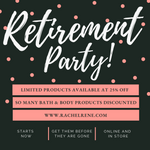 It's so hard to say goodbye!
The time has come to let some of our products take their leave and while it's bittersweet to say goodbye to most of them, we can't wait for you to see what we have coming up! 
We will be making the remainder of these products and have them available for sale as long as supplies last.
Check out all of our retiring products here at the Retirement Party
SOAP BARS:
Charmed
Esquire
Fruit Punch
Miss Ruby
Pink Cupcake
Tahitian Dreams
 
SHAVING BARS:
Charmed
Esquire
Fruit Punch
Miss Ruby
Tahitian Dreams
 
WHIPPED SOAPS:
Charmed
Fruit Punch
Island Girl
Miss Ruby
Pink Cupcake
Tahitian Dreams
Tropical Vacation
Unscented
 
CRYSTAL AIR FRESHENERS:
Charmed
Lavender Honey
Miss Ruby
Oatmeal Milk & Honey
Sunshine
Tahitian Dreams
 
SOY CANDLES & MELTS:
Aloe & Summer Herbs
Apple Pie
Baking Bread
Blueberry Muffin
Homestead
Lavender Honey
Lemon Cupcake
Miss Ruby
Nag Champa
Oatmeal Milk & Honey
Princeton
 
SHAMPOO BARS:
Esquire
Lavender Honey
 
SILKY BODY LOTION:
Caspian
Charmed
Esquire
Fruit Punch
Green Tea & Cucumber
Island Girl
Kaleidoscope
Malaki
Metro
Miss Ruby
Ocean Waves
Pink Cupcake
Tahitian Dreams
Tropical Vacation
 
BODY MOUSSE:
Charmed
Fruit Punch
Green Tea & Cucumber
Island Girl
Miss Ruby
Ocean Waves
Pink Cupcake
Tahitian Dreams
Tropical Vacation
 
BODY POLISH:
Charmed
Fruit Punch
Lilacs in Bloom
Miss Ruby
Ocean Waves
Pink Cupcake
Tahitian Dreams
Tropical Vacation
Unscented
 
DEODORANT:
Charmed
Esquire
Fruit Punch
Miss Ruby
Ocean Waves
Pink Cupcake
Princeton
Tahitian Dreams
Tropical Vacation
 
BATH BOMBS:
Caspian
Charmed
Esquire
Kaleidoscope
Malaki
Metro
Miss Ruby
Tahitian Dreams
BUBBLE BOMBS:
Charmed
Lavender Honey
Miss Ruby
Tahitian Dreams
Lilacs in Bloom
 
LIQUID SOAP:
Charmed
Esquire
Fruit Punch
Miss Ruby
Pink Cupcake
Tahitian Dreams
Tropical Vacation
 
BODY MIST:
Charmed
Esquire
Fruit Punch
Island Girl
Miss Ruby
Oatmeal Milk & Honey
Pink Cupcake
Tahitian Dreams
 
BATH SALTS:
Aloe & Summer Herbs
Lilacs in Bloom
Ocean Waves
Princeton
 
ALL OTHER PRODUCTS:
Deep Moisture Face Mask
Fruit Punch Lip Scrub
Lavender Honey Roll-On Perfume